(Hattip
amicus bloggus
Adam)
Big news from the music world
:
Dennis Haskins, A.K.A. "Mr. Belding" from the popular television series "Saved By The Bell," is set to release a one-of-a-kind, first ever celebrity CD/DVD karaoke package on September 1, 2009 titled "Karaoke With Your Favorite Principal Dennis Haskins A.K.A. 'Mr. Belding.'"
I don't like to miss anything that's both one-of-a-kind and first ever! Especially with amazingly unwordy titles such as: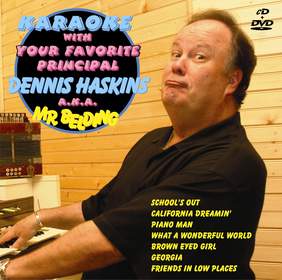 Incredibly,
Dennis Haskins' website
confirms that this is for real, though I have no idea why he's making an "I just farted into a champagne glass... because I'm classy, that's why" look. Also, are those bunions growing from his chin? Did he forget to brush off the crumbs from the Entenmann's donut he just finished?
But most unclear is the song list. Why stretch for obscurity like Piano Man and Georgia when there are classics right at your fingertips? How much more likely would you be to buy this with the following track list:
1) "Break a Sweat" (Hot Sundae)
Saved by the Bell Workout
2) Friends Forever
3) "I'm so excited"
After that one, I never attempted to study for a math test after joining a girl band again.
4) [UPDATE 4:29 PM - thanks to Adam] "Cool School" (Regardless of what the thermostat says)
And the greatest closing song in the history of karaoke CDs
5) "Farewell to Bayside"
The least he could do is attempt "The Sprain" on the dvd. Come on Mr. Belding. Be as cool as Rod. For once.